Our society is its' brightest, most ambitious, and most creative in the mornings. A simple cup of coffee, in any spontaneous setting, can open doors to incredible discussions for better ideas, solutions, and innovations geared to improve our communities, neighborhoods, and beloved city.
Crowned as the most ethnically diverse city in the US, Houston has a real need to address problems of old and new in order to continue to move forward, as we are the city of the "Future".
Local coffee shops have become lighthouses for entrepreneurs, co-working, studying, collaborative workshops, design thinking sessions, business meet-ups, and social entrepreneurship. These type of coffee shops, organizations, groups, and individuals deserve to be highlighted, given a spotlight, and a voice, but most importantly, given the support to help grow their purpose and missions.
Each month we will "Spotlight" a local cafe, organization, and or individual that is socially creating impact. We will share their stories and journey with a featured short write-up, spectacular photos, and a personal interview so that you the reader can share empathy and their vision.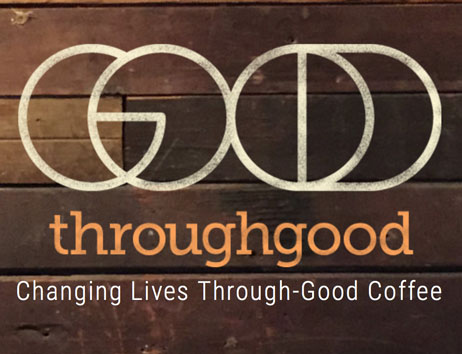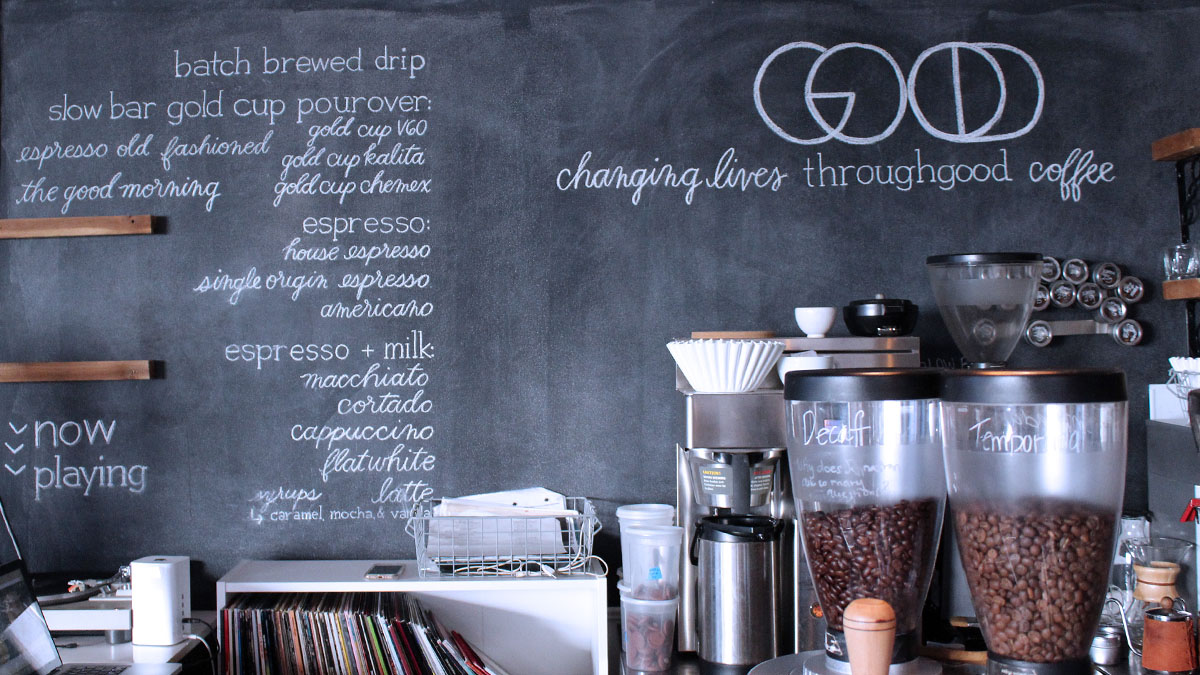 Interview with ThroughGood Coffee Lead Barista Rudy Hernandez
Doing Local Social Impact ThroughGood Coffee
by Freddy Castillo ­ March 2018
When you hear the word "good", you normally don't think anything specific; you are not over-whelmed by emotion; it is simply a passive non call-to-action word that our society has come to take for granted. Good is one of the English language's eldest words, truly Old English. We have come to know it as a word that embodies approval, enough, fine, sturdy, strong, quality, etc. But its original meaning spawned from the word "God" and when used was meant to embrace emotions such as righteousness, benevolence, to be fortunate, have morality, and integrity, just to mention a few. It is a word meant to leave you with kindness and hope when we look into each others eyes as we walk by.
ThroughGood Coffee is a stand alone local cafe that gives you that wholesome feeling. Located right inside Houston's N 610-Loop in between Durham and Shepherd on 27th, it's best known for its show stopping pour-overs, drip, and batch brew along with a guaranteed smile. The scenery is dripped with vibrant colors of orange, white, brick reds, bronze, aged wood panels and an old-school chalkboard menu that leaves you with a rustic-modern feeling of something old infused with something new.
On any given day, there is a diversity of encounters for business, social, entrepreneurs, and study, all crossing paths and interacting with one another while jamming vinyl albums. At times, ThroughGood Coffee can be packed wall to wall, but still you'll see patrons find a spot just so they can experience the multi-cultured energy that is captivated by each smile and laugh. ThroughGood Coffee also offers a variety of tasty pastries and local vegan donuts to compliment your coffee order, but if you have an appetite for creativity, their food truck "Soul Tacos" has tacos that locals say are "…life changing". 
ThroughGood Coffee is owned and operated by well-known Houstonian Pastor Rudy Rasmus of St. John's Church who has more than 25 years of ministry and social impact. He is quietly and respectfully partnered with charities such as the Bread of Life – a human service agency that provides services to people experiencing life challenges- and Temenos Housing – a non-profit organization which provides housing to previously homeless people. ThroughGood's goal is simple, "to discover ways to improve lives through-good coffee" – Pastor Rudy.
We each find ourselves wanting to do more, give more, and simply be involved more in our beloved community. ThroughGood Coffee allows you to begin that effort simply by walking into their welcoming "good" doors, helping better lives one coffee bean at a time. 
For more information, please visit ThroughGoodCoffee.com or follow them on IG @throughgoodc – FB @Throughgoodcoffee – Twitter @ThroughGoodC – and be a part of their everyday mission of positively changing lives.